Born in Waynesboro, Virginia, Dr. Abraham grew up in Nederland, Texas and started his passion for caring when he was young, influenced by an uncle in India who was a pediatrician. His amazing career in medicine has taken him from Virginia to Texas, to Florida, South Carolina and then he finally landed back in Texas with Fort Worth Renal Group. Dr. Abraham always goes the extra mile with his genuine caring demeanor and earns the trust of his patients and their families. His interest in Chronic Kidney Disease, transplantation and helping his patients plan ahead while working to slow the progression of kidney disease are what sets him apart as an excellent physician.
Dr. Abraham received his undergraduate Bachelor of Science in Chemistry from Lamar University in Beaumont, Texas. He attended graduate school at the University of Texas Health Science Center in Houston graduating in 1992 and went on to obtain his MBA from Florida Tech University in 2014. After his internship Birmingham, Alabama, his completed his residency in Internal Medicine in 1995 at Baptist Health System in Birmingham. He was Chief Resident from 1995-1996. He finished his Nephrology and Transplant Fellowship at the University of Florida College of Medicine in Gainesville, Florida in 1998.
His certifications include: American Board of Internal Medicine, ABIM-Nephrology, AST in Transplant Nephrology, NBPAS Certification for Internal Medicine and Nephrology. He is a member of the American Society of Nephrology, National Kidney Foundation, and the American Society of Transplantation. He has also been awarded many honors including Alpha Omega Alpha, Phi Kappa Phi, Joint Venture Council Member for Fresenius Medical Care, and the Medical Disciplinary Commission of the South Carolina Board of Medical Examiners). He has many publications and was one of the primary developers of the information system Nephrologixx.
His interests in the nephrology field include transplantation, managing patients on dialysis, and caring for patients in the acute care setting. He loves his patients. Dr. Abraham works hard to do the right thing for his patients, family, and friends. He enjoys music listening to some of his favorite bands: ELO, Asia, Foreigner to name a few. In addition to traveling with his family to some of their favorite beaches, when he has spare time, he likes to hit the gym, watch the kids sporting events and watching movies. The highlight of his day is spending time with his wife and 2 sons, playing with their dog Karma, and attending church.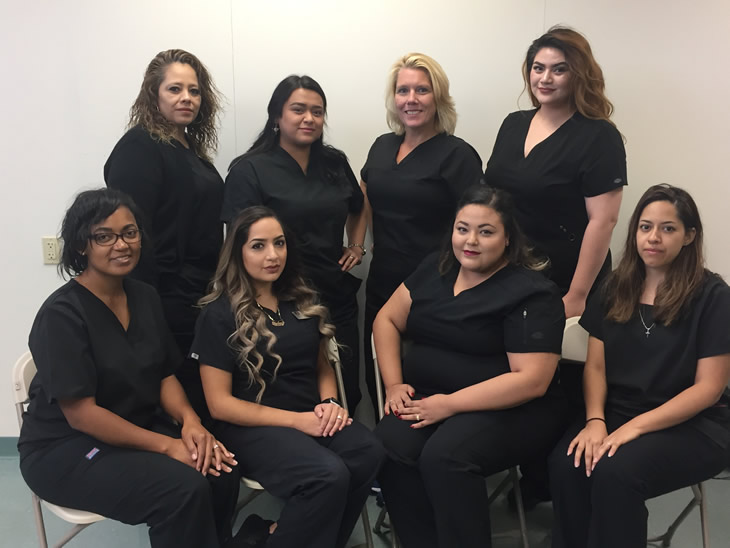 Meet our Medical Assistants
Sitting from Left to Right: Shaunte, Medical Assistant; Stephany, Medical Assistant; Estephany, Medical Assistant; Perla, Patient Registration
Standing from Left to Right: Connie, Vascular Coordinator; Lucy, Receptionist; Dana, RN – Educator; Lexi, Medical Assistant