Dr. Dapo Afolabi is a Co-founding partner, President and CEO of Fort Worth Renal Group. After his college education at the University Of Ife, Nigeria, Dr. Afolabi completed his residency in Internal Medicine and Fellowship in Nephrology at Henry Ford Hospital in Detroit, Michigan. He was voted Senior Resident of the Year and was Chief Renal Fellow during his training at Henry Ford Hospital. Dr. Afolabi is board certified in Internal Medicine and Nephrology. He is also a certified Interventional Nephrologist with over 10 years of experience. Dr. Afolabi has practicing privileges in several Texas Health Resources hospitals including THR Fort Worth, THR Alliance and THR Southwest Fort Worth, as well as several HCA and Baylor Scott & White facilities. He has served on multiple hospital committees, and has been actively involved in educational and research activities. He served as Medical Director for several US Renal Care dialysis facilities and vascular access centers.
He was voted Fort Worth Top Doc by his peers in 2006, 2009, 2011 & 2018.
Dr. Afolabi is a member of the American Society of Nephrology, as well as American Society of Diagnostic and Interventional Nephrology.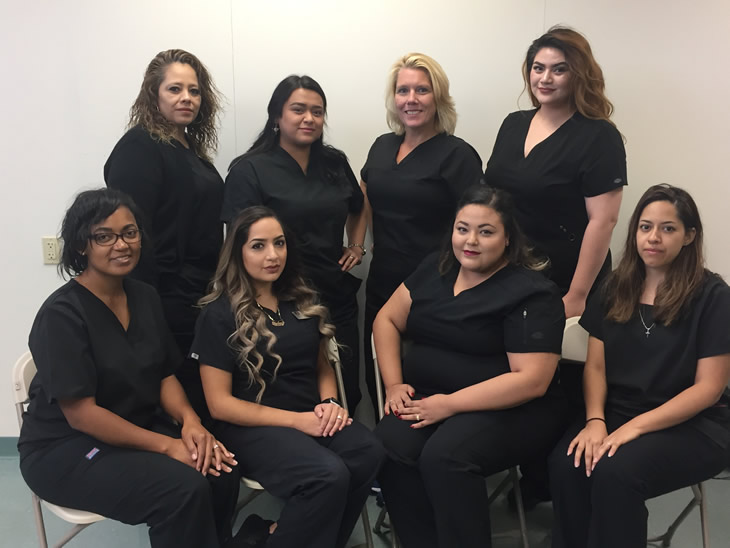 Meet our Medical Assistants
Sitting from Left to Right: Shaunte, Medical Assistant; Stephany, Medical Assistant; Estephany, Medical Assistant; Perla, Patient Registration
Standing from Left to Right: Connie, Vascular Coordinator; Lucy, Receptionist; Dana, RN – Educator; Lexi, Medical Assistant