Dr. Kanu is the newest member of Fort Worth Renal Group and joined our practice following the completion of his post graduate training in Nephrology at the University of North Carolina, Chapel Hill in 2020.  After graduating from medical school at the University of Nigeria Enugu campus, Dr. Kanu completed his Internal Medicine residency at Texas Tech University Health Sciences Center, El Paso in 2018. He was a chief fellow during his fellowship at UNC Chapel Hill.
He has extensive experience in clinical research and clinical trials and is certified by the American Board of Internal Medicine. He served as the Resident's Liaison for the House Staff Association during his residency. He has received a number of awards for excellence during his medical training including the Annual Outstanding Research Accomplishment Award, Texas Tech University Internal Medicine Residency and a Prize for Leadership, Class of 2010, College of Medicine, University of Nigeria.
In his free time, he likes to dance and spend time with his toddler twin boys. He looks forward to providing patient-centered and compassionate medical care to his patients as he launches his career as a nephrologist. He also aspires to help the less-privileged through local and international medical outreach programs and scholarships.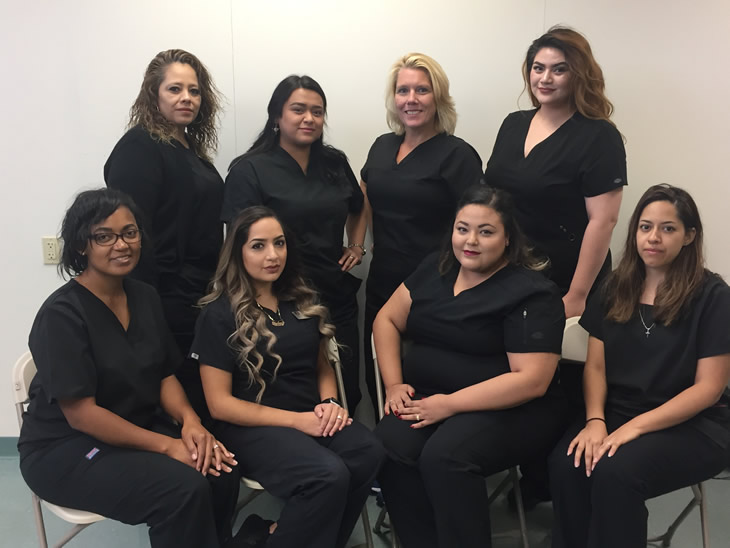 Meet our Medical Assistants
Sitting from Left to Right: Shaunte, Medical Assistant; Stephany, Medical Assistant; Estephany, Medical Assistant; Perla, Patient Registration
Standing from Left to Right: Connie, Vascular Coordinator; Lucy, Receptionist; Dana, RN – Educator; Lexi, Medical Assistant