Dragana Kljaic is a Board Certified Adult Gerontology Acute Care Nurse Practitioner (AGACNP-BC). She started her training in the medical field as a sitter in a nursing home. She was encouraged by a supervisor to pursue higher education, so she went to school to become a certified nurses' aid (CNA). A few years later, she went to Tarrant County Community College for an Associates' Degree in Nursing (ADN), where she graduated in 2002. She went on to pursue a Bachelor of Science in nursing (BSN) degree and graduated from the University of Texas at Arlington (UTA) in 2004. She went on to seek further education and graduated from UTA with a Master of Science in Nursing (MSN) in 2017. Soon after, she became a board certified Nurse Practitioner with the American Nurses Credentialing Center (ANCC).
During the years of her schooling, Dragana gained 3 years of experience as a cardiac telemetry floor nurse and 14 years of experience as a cardiovascular intensive care (CVICU) nurse. She served as a charge nurse and a preceptor in the CVICU at Harris Methodist Fort Worth (HMFW) Hospital, where she managed highly complex post open heart surgery patients. During her long career at HMFW Hospital, she was a member of the quality improvement hospital committee where she actively sought ways to improve practices throughout the hospital.
During her NP clinical rotations, she developed an interest in further exploring the complexities of renal disease(s). Thus, she joined this nephrology practice and currently provides care for patients in the acute care setting, with HMFW Hospital being her primary location. To provide continuity of care, Dragana follows up with patients she has seen in the hospital on an outpatient basis, in the office setting, as well. She takes pride in educating her patients and spending time listening to their concerns.
Dragana is married and has one daughter. She enjoys spending time with her family and gardening.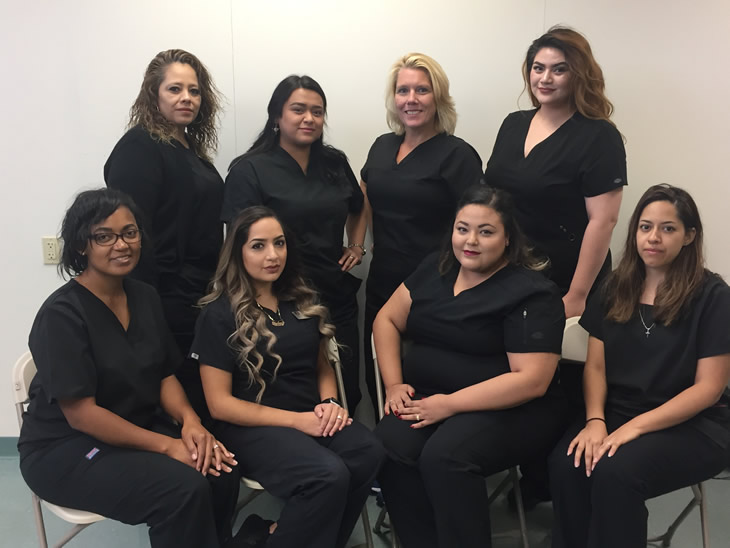 Meet our Medical Assistants
Sitting from Left to Right: Shaunte, Medical Assistant; Stephany, Medical Assistant; Estephany, Medical Assistant; Perla, Patient Registration
Standing from Left to Right: Connie, Vascular Coordinator; Lucy, Receptionist; Dana, RN – Educator; Lexi, Medical Assistant