Some of us are fortunate to learn what we want to do at an early age. That is Brittany Keaton. When she was very little, she felt she had a calling to help others and always wanted to be a Doctor or Nurse Practitioner. So that's what she did! Brittany has had various roles within the nursing profession.  She started her career at Medical City of Fort Worth as a bedside nurse in critical care, and then transitioned to Harris Methodist Fort Worth where she had multiple roles within critical care nursing, education and hemodialysis support; serving as the cardiovascular (CV) clinician, charge nurse and preceptor in the Cardiac Intensive Care Unit and as a dialysis nurse for the hemodialysis unit.
Brittany works collaboratively with nurses, physicians, and healthcare organizations to provide her patients with the best outcomes. She has a unique combination of robust nursing and critical thinking skills that enable her to provide excellent quality care. Brittany believes in building lasting and trusting relationships with her patients and their families. Her compassion, enthusiasm and infectious smile make the perfect combination to be a caring, competent and excellent Nurse Practitioner at Fort Worth Renal Group.
Brittany graduated with her Bachelors of Science in Nursing (BSN) in 2008 from Texas Woman's University in Denton, TX. She completed her Masters of Science in Nursing (MSN) in 2016 at Chamberlain College of Nursing in Downers Grove, IL. Brittany Keaton is a Board Certified Family Nurse Practitioner (FNP-C) with nine years of experience in the nursing profession. Brittany is licensed by the State of Texas to provide patient centered care that encompasses health promotion, disease prevention, diagnosis, and management of complex health ailments throughout the continuum of the lifespan. She is certified as a Critical Care Registered Nurse (CCRN) and Fundamentals of Critical Care Society (FCCS).
An avid educator, Brittany enjoys helping others develop their passion in nursing. She has served as a preceptor and currently teaches the critical care class for beginners and advanced continuous renal replacement therapy (CRRT). In 2016, she was nominated for Great 100 Nurses in Dallas/Fort Worth metroplex.
Brittany is happily married with 2 children and in her spare time she enjoys reading and traveling. Her most important activity is spending time with family and friends.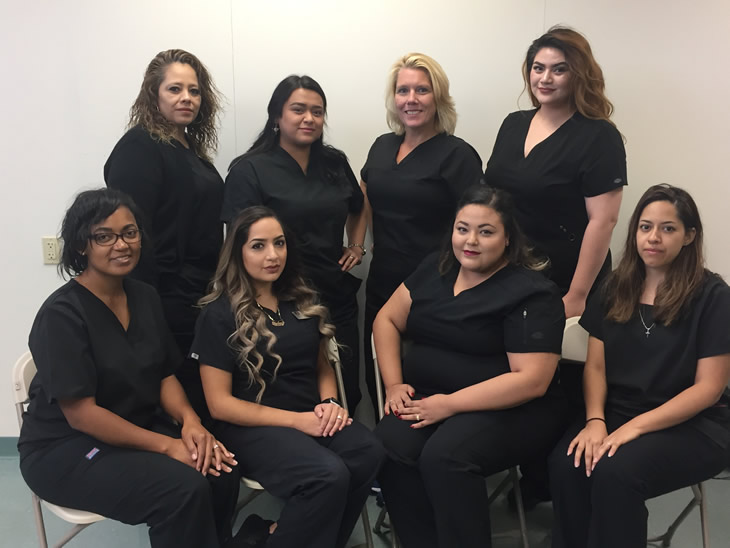 Meet our Medical Assistants
Sitting from Left to Right: Shaunte, Medical Assistant; Stephany, Medical Assistant; Estephany, Medical Assistant; Perla, Patient Registration
Standing from Left to Right: Connie, Vascular Coordinator; Lucy, Receptionist; Dana, RN – Educator; Lexi, Medical Assistant